Monthly Archives: May 2018
Mental Health First Aid is for adults who work with youth, May 31, 2018, at CCMH Institute, 900 W. Sharon Ave., Houghton from 8 am to 5 pm. Lunch is provided. Fee to cover lunch and book is $35 per person. Registration is limited to 25 participants and should be completed by May 24. Call Brian or Annette at 906-482-4880.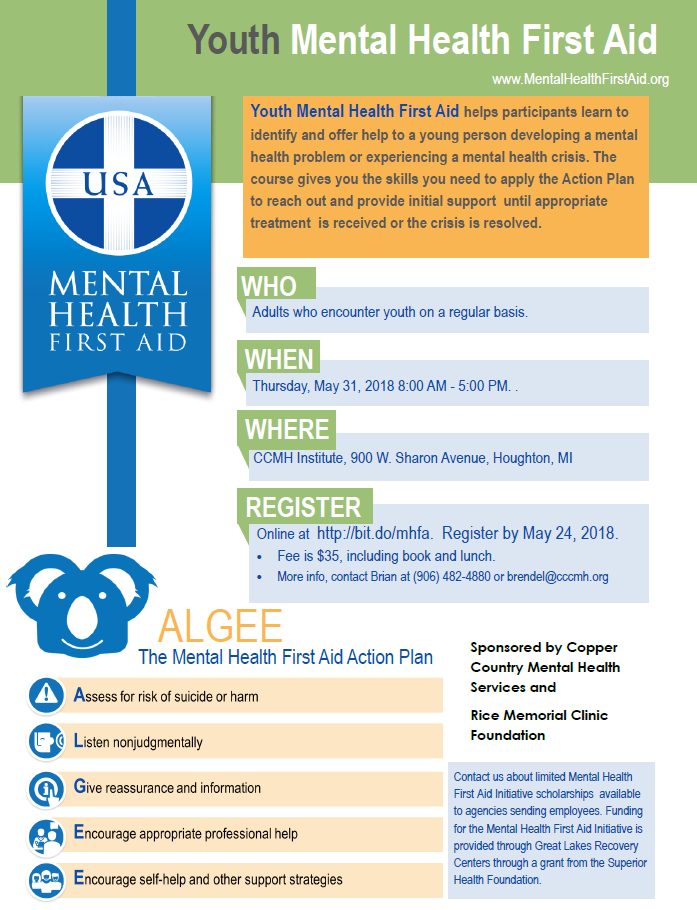 The public is invited to our 2018 Recovery Lecture Series planned for Wednesday, June 27, 2018. USAF combat veteran and personal coach Trish Russell will speak on "Life After Trauma." There are two opportunities to hear Trish speak. The first is 1 pm at Hancock Middle/High School Auditorium, 501 Campus Drive, Hancock. There is an evening presentation at CCMH Institute starting at 7 pm.
Registration is encouraged, but not required for this free event, and may be done by calling 906-482-4880 or online at http://bit.do/recoverylecture